Since our establishment over two decades ago in Denver, CO, Gilmore Construction has risen to become known in the construction industry for our consistently high standards and reliability, and for creating the best possible construction experiences and outcomes for our clients.
Gilmore not only gets it right, but is also one of Colorado's largest minority-owned, commercial construction companies. We are dedicated to ensuring our executive ranks and construction teams truly reflect the communities we serve.
Gilmore specializes in design/build, pre-construction and construction. We invite you to review our full range of services, our signature projects and the industries where we have rich experience.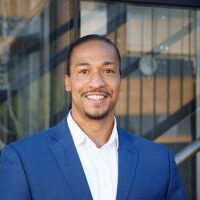 Justin Gilmore, Business Development Director
 Justin Gilmore leads the company's opportunity, community and client relationship management initiatives. He provides strategic direction for Gilmore to navigate and expand brand presence in the Colorado construction market. Gilmore's foundation is rooted in the communities where we work, live and play and giving back is a core value in our organization. Justin will build upon his management and field experience to support and connect small, minority/women-owned and emerging business to opportunities and resources as well as identify potential partnerships. Justin's community service and outreach efforts support Denver's youth and career pathways, and he is actively involved in the Colorado Association of Black Professional Engineers and Scientists (CABPES), Conference of Minority Transportation Officials (COMTO), Hispanic Contractors of Colorado (HCC) and the Associated General Contractors of Colorado (AGC).