Goddard Space Flight Center (GSFC) is located in Greenbelt, MD, with the mission to expand knowledge of Earth and its environment, the solar system, and the universe through observation from space. To ensure that our Nation maintains leadership in this endeavor, we are committed to excellence in scientific investigation, in the development and operation of space systems, and in the advancement of essential technologies. GSFC is also the contracting office for NASA Headquarters (HQ) in Washington, DC. The list of NAICS codes is the combined list of requirements for both GSFC and HQ.
Purchasing/Contracting Needs
561210 – Facilities Support Services The North American Industry Classification System (NAICS) Codes:

336414 – Guided Missile and Space Vehicle Manufacturing
541712 – Research and Development in the Physical, Engineering, and Life Sciences (Except Biotechnology)
541330 – Engineering Services
334511 – Search, Detection, Navigation, Guidance, Aeronautical, and Nautical System and Instrument Manufacturing
517919 – All Other Telecommunications
541710 – Research and Development in the Physical, Engineering, and Life Sciences
333314 – Optical Instrument and Lens Manufacturing

236220 – Commercial and Institutional Building Construction
561110 – Office Administrative Services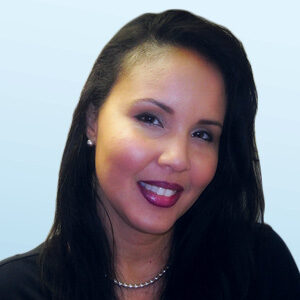 Jennifer D. Perez, Small Business Specialist
My name is Jennifer D. Perez and I am the Senior Small Business Specialist at Goddard Space Flight Center (GSFC) in Greenbelt, MD. I was born in New York City and moved to Maryland in 1987. I started my civil servant career 30 years ago at the Internal Revenue Service as a clerk-typist. Wow, time flies when you are having fun! Two years later, I accepted a position at GSFC as a clerk-typist for the Flight Programs and Projects Directorate, Code 400. In 1990, in order to further my career, I enrolled in college to pursue a degree in business administration.
While attending college, raising a family, and working in the clerical field, an opportunity arose to work in the Procurement Directorate in 1997, and I officially began my acquisition career as a procurement technician in the Headquarters Procurement Office. Since then, I have earned my degree; served as team leader for Simplified Acquisitions; and worked as a contracting officer, where I administered, extended, terminated, negotiated, and renegotiated contracts. After working in the contracts world for 12 years, I felt I was called to do something else where my customer service skills could be best utilized. I was approached in 2009 by Gilberto Delvalle to do a detail in the Small Business Office and the rest is history. I have found my calling professionally. I love this position so much that I plan to stay until I retire.