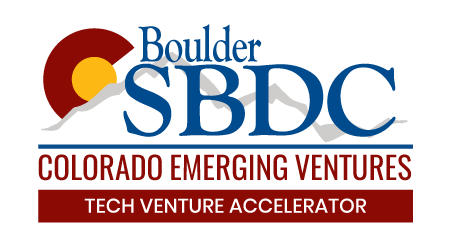 TVX-Boulder is an exclusive 10-part cohort series designed to help emerging companies in Colorado's advanced industries to overcome hurdles in order to accelerate growth and development. The format, topics and tangible assistance the program offers was developed from success working with early- and second-stage science and technology ventures for more than 10 years. TVX-Boulder focuses on growth through non-dilutive capital sources (so you aren't giving away any equity in your company) and technology commercialization.
When will the next cohort be held?
The next TVX-Boulder cohort will begin in fall 2023. Sessions will be on Thursdays from 9:00-11:30 am from September 14 – November 16. Most sessions will be in person, although a few will be held virtually. 
How is the program structured?
The series combines a virtual peer group format with more than 30 hours of strategic growth consulting:
Because of funding from the City of Boulder, TVX-Boulder is designed for City of Boulder-based businesses and their founders, C-level leaders and executive managers Colorado's advanced industries, including:
Advanced manufacturing
Aerospace
Bioscience
Electronics
Energy and natural resources (including cleantech)
Infrastructure engineering
Technology and information
Other innovative science and technology businesses
"We all come from the technology side – not business. We're starting to reach our market and there's so much potential, but now we are experiencing challenges that we know others have overcome before. We want to know how they solved it."
"We're scientists. We spent 5 years honing the science, now ready to go to market. We could use help."
Does this sounds like you? If the answer is yes, you should apply for Tech Venture Accelerator.
What topics will be covered?
Market Research/Customer Discovery
Positioning Statements
Federal R&D Tax Credits
Structure of a Pitch
SBIR & Advanced Industries Grants
Marketing & Business Model Strategies
Value Proposition
Identifying Target Markets
Sales Team Compensation
Building Management Teams
Sales/Distribution Channels
Protecting & Marking IP
Legal Matters
Non-Dilutive Sources of Funding
Writing Commercialization Plans
Building a Dashboard & Performance Indicators
Contracting with the Government
Accounting for Government Contracts
To apply for TVX-Boulder, businesses must:
Be a science and technology business with its headquarters based in the City of Boulder
Have the potential for submitting SBIR/STTR proposals
The Colorado SBDC TechSource program also offers Tech Venture Accelerator for Women (TVX
W
).
Learn more here.
The cost of the cohort is $2,450/participant. However, because of generous funding from the City of Boulder, the cost to participate will be fully offset for accepted businesses. No more than 10 businesses will accepted into this exclusive TVX-Boulder cohort.
"Tech Venture Accelerator helped Artimus Robotics focus on our highest priority challenge, finding a market and mapping how we access it. I appreciate that the TVX really brings value to an enterprise by providing more than just advice; they have actual experts that will put in work to help you succeed. TVX helped set us on the right track for legal, taxes, government grants, market research, presentations, and much more. I'd highly recommend TVX to any high tech startup in the area looking to build out their commercialization strategy or take their enterprise to the next level."



"We are physicists, who have been engaged with NASA, researching and developing products for years. Faced with the launch and commercialization of our fist B2B product, we joined TVX to learn more about business development. We were thrilled with the quality and depth of the program which seemed to speak directly to our needs. The format of the cohort meeting suited us well, as we were able to ask questions and delve deeply into the topics that have the most direct impact right now. Hearing the experiences of other tech companies and learning from the speakers who spoke with us (instead of at us) gave us the know-how and confidence in how to approach our new market."
"You and your team are amazing. I've gone from "hoping" I could figure out how to make Stardust viable to having confidence that we can get there, and it's due the TVX program, your team, and all of the support you provide. You really make a difference!"
Applications are now closed. To receive a notification when the application opens, please fill out your information below.